Ellison Creates New AIA CES Course for The Continuing Architect
Ellison President, Mark Graves, Explains Custom Balanced Doors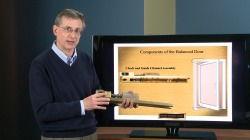 Ellison Bronze, Inc., the inventor of the balanced door and today's leader in the custom balanced door industry, has created a brand new AIA continuing education course, "An Introduction to Custom Balanced Doors." The course is available on The Continuing Architect, an online architect continuing education platform, in a revolutionary high-definition video format.
Unlike conventional continuing education courses, which at most feature voice-over presentations in PowerPoint™ format, the Ellison course features Mark Graves, President of Ellison, walking viewers through each section of information. This provides viewers with a more in-depth understanding of the course material, as it is presented by a credible and knowledgeable source with a face-to-face approach.
"Its important to me that viewers have a true understanding of the product," explains Graves. "I wanted to be hands-on with this process because I want people to feel engaged with the material, and to feel comfortable with the company. We care about our product, and its nice to be able to convey that personally."
"An Introduction to Custom Balanced Doors" explores many facets of balanced doors, from the fundamentals of door composition to specific building code compliance. It explains the various components of a balanced door system, the numerous advantages of a balanced door over conventional hinged or pivoted swing doors, how balanced doors meet ADA guidelines and the specific design requirements needed to accommodate balanced doors.
Accredited by the American Institute of Architects' (AIA) Continuing Education System (CES), successful completion of the course earns one hour toward learning unit requirements, including the health, safety and welfare and sustainable design credit categories.
Ellison's course can be accessed at The Continuing Architect – An Introduction to Custom Balanced Doors. Course takers can enroll in the course using an existing account or by registering for a new one. The course is available online in streaming video and can also be downloaded as a PDF file for offline learning. Additionally, the course is available as a Lunch and Learn presentation, as a podcast, and can be viewed on mobile devices, including the iPad. Upon successful completion of the course and quiz, AIA members will receive continuing education credit.