Ellison Introduces Bob Paal to its Dedicated Network of Representatives
Bob Paal Architectural Products to Represent Ellison in California, Nevada, and Hawaii
Wednesday, October 12, 2011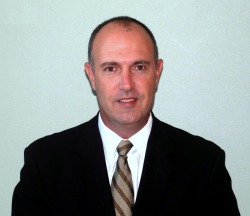 Ellison Bronze, Inc. – the inventor of the balanced door and today's leader in providing the highest quality marquee entrances in the industry – welcomes Bob Paal to its team of independent representatives. Paal will supply Ellison custom balanced doors to Southern California, Clark County, NV, and all of Hawaii.
Paal is an experienced architectural building products professional, bringing nearly 25 years of expertise to his new position. He earned a Bachelor's degree in Economics from Saint John's University in Collegeville, MN and then took a sales role at leading glass fabricator, Viracon, where he remained for more than two decades. Paal is thoroughly familiar with the architectural glass industry and has spent the majority of his career in Southern California, where he will continue to build his customer network.
"We're very pleased to welcome Bob Paal to our team," says Tracy Hultin, National Sales Manager for Ellison. "He has very deep roots in Southern California, and as a result, brings solid relationships to his new role. His extensive experience with the glass building products trade will greatly benefit our customers, and we are excited to support the progress he will make in his region."
In addition to Ellison, Paal will also be independently representing Viracon, Quality MetalCrafts, LLC, and Pilkington Planar by W&W.
"I wanted to set up my independent company to only represent the best of the best," explains Paal. "Ellison is very well-received in the architectural community, and the product is considered to be the highest quality door in the industry. The company has an excellent reputation and I am proud to represent it."
Bob Paal Architectural Products is based in Los Angeles, CA. For additional information or to schedule an appointment with Paal, visit www.bpaproducts.net, email bobp@bpaproducts.net or call 949-294-1975.