Ellison Provides Contemporary Doors with a Traditional Look for Historic Building
New Door System Maintains Historical Integrity of Chicago High-Rise
Friday, September 30, 2011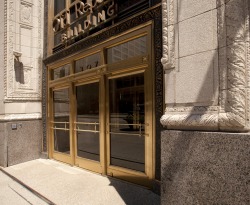 Ellison Bronze Inc., the inventor of the balanced door and today's leader in providing the highest quality marquee entrances in the industry, offers its custom door system to the historic Old Republic Building at 307 N. Michigan Avenue in Chicago, IL. The system offers supreme durability and a traditional aesthetic appeal.
The Old Republic Building features two units of three single Ellison signature balanced doors in a 280 alloy muntz bronze with a #4 satin finish and clear lacquer coating. The doors are made in the impressively sturdy and elegant formed-up design with substantial 3.5-inch stiles. The exterior unit is surrounded by a grand three-story rounded arch entry accented with rope and floral designs, and is crowned with a cartouche bearing "OR" (for "Old Republic") in between a series of decorative swags. 
Built in 1924, the building and its entryway's Classical Revival design is archetypal of its architectural era. The building was granted "landmark status" in 2010. This designation presented the project team with the unique challenge of replacing the prior entry system with one that could withstand high volumes of traffic over many years and legendary Chicago winds, yet would retain a classical style.
To do this, the team turned to a door manufacturer with a history as deeply rooted as The Old Republic Building's itself: Ellison Bronze. Founded in 1913, Ellison embodies tradition and time-tested quality, yet the company has continuously improved its original designs with modern technologies to ensure its doors are of the highest possible quality. Like the Old Republic Building, many Ellison doors have stood solidly since the late 1920s, making the system a perfect match for the landmark facility.
To satisfy historic characteristics, Ellison created custom bronze glass stop moldings to reflect the building's original profile. Bronze was chosen for its traditional, solid appeal, which matches the bronze block letters spelling out "Old Republic Building" overhead. The classical aesthetic does not, however, preclude the usage of modern technology. The doors feature Ellison PowerNow power operation functionality, facilitating optimal access for all users while meeting ADA and city of Chicago guidelines.
"With respect to the historical significance of the building and its location, there is a high demand for quality for both the installation team and on the product itself," explains Lou Nutini, Vice President of Illinois Bronze Works/MTH Industries and entry system installation manager for the project. "Fortunately, Ellison is dependable. We've installed many Ellison doors, and they are consistently of the highest quality. This particular set meets those expectations."
While balanced door systems can satisfy many varying aesthetic goals, their design also allows for large, heavy, and durable doors to be opened with ease. The inset pivot point allows for a more fluid range of motion despite the added weight of a sturdy frame, door leaf, and balanced hardware. The opening motion also remains effortless when operated manually or with power. This is true even against the significant building stack pressure of well air-conditioned high rises and against the harsh conditions of the Windy City, resulting in a harmony of form and function. 
"This project is an excellent example of identifying a unique architectural need and coming up with a solution. It requires modern technology with traditional look," says Mark Graves, president of Ellison. "Many specifiers are faced with this type of challenge, and we are very pleased with the way our system is able to unify those objectives."
Unlike other door manufacturers, Ellison pre-assembles and pre-hangs each door before it leaves its factory, in order to inspect and fine-tune to perfection. This critical step assists in efficient installations, which is always important – and is especially useful for renovations, as the building must remain accessible.
"The Ellison experience is reliable from start to finish," says Nutini. "From the design and detailing stage to working with the door engineers, coordination is straightforward and detailed. Fabrication is precise, doors arrive to the shipping dock well-packaged, and installation assistance is well-executed."
In addition to these standard customer service practices, the company also provides detailed record-keeping and full warranties – important when considering the extensive lifespan of an Ellison door. Every door made is imprinted with an individual project number (similar to that of a car's VIN number) to facilitate easy tracking and maintenance. Furthermore, all Ellison balanced hardware components are cast and machined in-house, which means that replacement components are always readily available. For a facility like the Old Republic Building – built in 1924 with no signs of going anywhere – this long-lasting commitment to first-class service is invaluable.