New Museum Wing Specifies 106 New Ellison Doors for Priceless Art Collection
Art Institute of Chicago Modern Wing Utilizes Balanced Doors for Gallery Access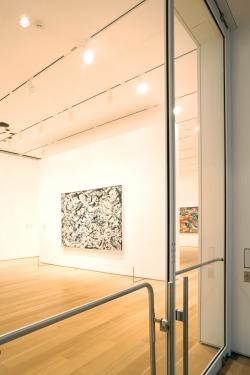 Ellison Bronze Inc., the inventor of the balanced door and today's leader in providing the highest quality marquee entrances in the industry, supplies 106 new balanced doors to the Modern Wing's exterior entrances, lobby, and internal galleries. This brings the tally to 118 total signature Ellison doors throughout the Art Institute.
Standing an impressive 12 feet tall and 4 feet wide, the doors serve as a key architectural feature within the museum. While the facility highlights many Ellison options, the vast majority of the new installations appear in the sleek Narrow Stile design, a tempered glass construction featuring thin, decorative stile edges made of extruded aluminum. The small strip of metal provides remarkable protection for the vulnerable edge of a tempered glass door, without inhibiting the transparent aesthetic that is desirable for gallery space. The new doors have a custom "Art Institute White" Kynar® PVDF finish, while a likewise aptly named "Statuary Bronze" finish appears on the original 12 doors previously installed at the museum.
"We are very proud to have been specified again for this award-winning art museum," says Peter Nutini, Midwest Representative for Ellison. "This installation is a testament to the impeccable craftsmanship of our doors – to have been chosen to provide access to profound artwork says a great deal about the artistry of the doors themselves."
The Modern Wing opened its doors on May 16, 2009, and has since achieved LEED Silver certification as well as a Chicago Innovation Award. It was designed by the world-renowned architects at the Renzo Piano Building Workshop (Paris, France) while Interactive Design, Inc., Architects (Chicago, IL) served as local Architect of Record. Following a recurring theme in Piano's designs, the Modern Wing attempts to capitalize on lightness, transparency, and a cleanliness of detail.
Achieving these design expectations, the Narrow Stile option exudes a simple, refined quality both in appearance and feel. In terms of functionality, Ellison balanced doors offer supreme accessibility and design flexibility to the museum. Additionally, they offer tight temperature and humidity protection for the internal gallery spaces, due to their weather-sealing capabilities.
When specifying an entry system, several key factors came into play: it needed to be large enough to accommodate transporting large pieces of art without damage, tight enough to maintain precise environmental levels, durable enough to withstand high traffic over a long period of time, and flexible enough to accommodate the rigid geometrical design of the building. Although sliding doors were initially considered for the task, balanced doors were soon determined more appropriate, owing to their strength, control, visual appeal, and minimal lateral spatial requirements.
In addition to spatial benefits, the design of a balanced door allows for large, heavy, and durable doors to be opened with ease. The inset balancing point allows for a more fluid range of motion despite the added weight of a sturdy frame, door leaf, and balanced hardware. The opening motion remains effortless even againstthe significant building stack pressure of a museum's HVAC system and against the rugged elements of the Windy City.
"No other door system approaches what Ellison can do. We knew that the product would work operationally for our needs and would also meet aesthetic objectives," explains Robert K. Larsen, Architect/Partner at Interactive Design, Inc., Architects. "Furthermore, the company was very accommodating. Although we have specified the system many times, Peter Nutini arranged a trip to a Milwaukee art museum so that our team could physically experience the installation in a similar application. This kind of service was very helpful during the selection and planning processes."
Beyond initial customer service, the company also provides detailed record-keeping and full warranties – important when considering the extensive lifespan of an Ellison door. Every door made is imprinted with an individual project number (similar to that of a car's VIN number) to facilitate easy tracking and maintenance. Furthermore, all Ellison balanced hardware components are machined in-house, which means that replacement components are always readily available. This proves especially useful for places like the Art Institute, which not only expects a long facility-lifespan but is also outfitted with a large number of doors.
"Despite the size of the project and the size of the doors themselves, the installation was very uneventful – in a good way. Dealing with Ellison was a pleasure. They were accommodating in schedule and design criteria, and the coordination went very smoothly," says Mike Swanberg, President and CEO of MTH Industries (Chicago, IL) and Installation Project Manager. "Ellison has one of the best doors on the market and outstanding customer service. It's a great door for anyone who wants to keep their building around for a long time."